Upholstery Cleaning Services
One day, sooner or later, you're upholstered furniture is going to need a thorough cleaning. Regardless of whether you take a preventative approach to furniture maintenance or a restorative approach, professional deep cleaning will allow you to enjoy your furniture longer. UCM Upholstery Cleaning is a high quality upholstery cleaning service, offering the finest possible results in cleaning, spot removal, stain removal and odor removal from upholstery of all kinds. Our cleaning technicians have experience with virtually all types of upholstery fabrics, from natural fibers to synthetic, vinyl to leather and everything in between.
The preventative approach
The preventative approach to upholstery care entails taking steps to prevent the introduction of dirt onto upholstery fabric in the first place paired with regular cleaning. Another way of upholstery care can include the use of slip covers and throws placed on furniture arms or other high-use areas to prevent dirt build up and early signs of wear and tear. It can also include a policy of limited use, or a ban on eating or drinking while sitting on upholstered furniture. Other elements of this approach include vacuuming at least once a month and immediate reactions to spills. A more moderate approach would offset the effects of normal use with regularly scheduled upholstery steam ¬cleaning sessions conducted by UCM Upholstery Cleaning.
The restorative approach
The restorative approach to upholstery cleaning is quite common - many people wait until their upholstered furniture begins to show its age, which can be earlier or later than expected depending on the upholstery fabric in question and actual use. Some people choose this approach in order to save the bother of cleaning their upholstery themselves or the cost of hiring a professional cleaning outfit. Or, they simple forget about the importance of having upholstery cleaned until the fabric is discolored, stained and odorous, or infested by mites and/or fleas. Thankfully, UCM Upholstery Cleaning has developed highly effective upholstery cleaning techniques for restoring neglected upholstery.
Green products treatment
We use safe, Eco-friendly methods to remove dirt, dust, mites, pet dander, odors and other remnants of daily life from upholstered furniture. Once the pieces being cleaned have been thoroughly inspected for problem areas (wine or coffee stains, animal accidents, etc.) and pre-treated as required, all upholstery surfaces are vacuumed using high grade equipment with unmatched suction power. To boost the effectiveness of the process, technicians often brush the surfaces first. Brushing serves to loosen and capture hair and fur for more efficient removal. Next, the cleaning crew will use the method most appropriate for your upholstery type. While the majority of modern fabrics and fibers respond beautifully to the cleaning power of steam, your particular piece or pieces may need different treatment. Options such as hand washing, chemical cleaning or dry cleaning may be suggested as appropriate.
Regardless of the method used for cleaning your particular upholstered pieces, when you call on UCM Upholstery Cleaning the results are the same: sofas, loveseats, upholstered chairs and other furniture that looks and smells better than ever. Call us now 720-399-7355 for a free estimate.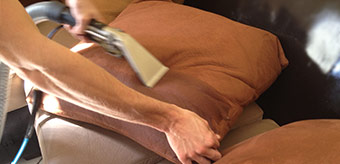 Servicing Denver's Metro:
Highlands Ranch, Broomfield, Southglenn, Castle Rock, Parker, Ken Caryl, Castlewood, Columbine, Greenwood Village, The Pinery, Stonegate, Evergreen, Castle Pines, Cherry Hills Village and more.